Field validation for good internal data provision
Correct data is important for an efficient and complete flow of information. By applying field validation in Dynamics NAV and Dynamics 365 Business Central, there's no incomplete master data or gaps in information processsing.
The Mandatory fields module provides the possibilty to vaildate fields: mandatory or according to predefined filters or length. 
Data validation
When creating new items, customers and suppliers, it is important that fields such as booking groups, valuation method and payment conditions are correctly filled in. Self-managing master data can be very time consuming, but for a correct processing of (internal) orders it is important that the master data is correct.

With the module Mandatory Fields the quality of your internal information processing will be enhanced. You can determine for each table which requirements the value of the field must meet. Depending on the setting, the user will receive a warning or an error.
Benefits Mandatory Fields Microsoft Dynamics
Increased data quality
By filling in a field mandatory or by certain value, you increase the quality of the internal data provision. In this case, the warning or error messages are flexible and as desired.
Adjustable on user level
All settings for Mandatory fields are adjustable for companies only and/or group of users.
No customization needed
The Mandatory fields module is easy to install and to implement.
No more gaps in data processing
After implementing the Mandatory fields module, users are bound to the settings you specify. The available data is complete.
Compatible with all NAV versions
Mandatory fields module is compatible with all Dynamics NAV version of NAV2013R2 up to version 2017.
No performance issues
The use of the Mandatory fields module does not have impact on the performance of your Dynamics NAV environment.
Increased work comfort
You can reduce the risk on manual errors with Mandatory Fields.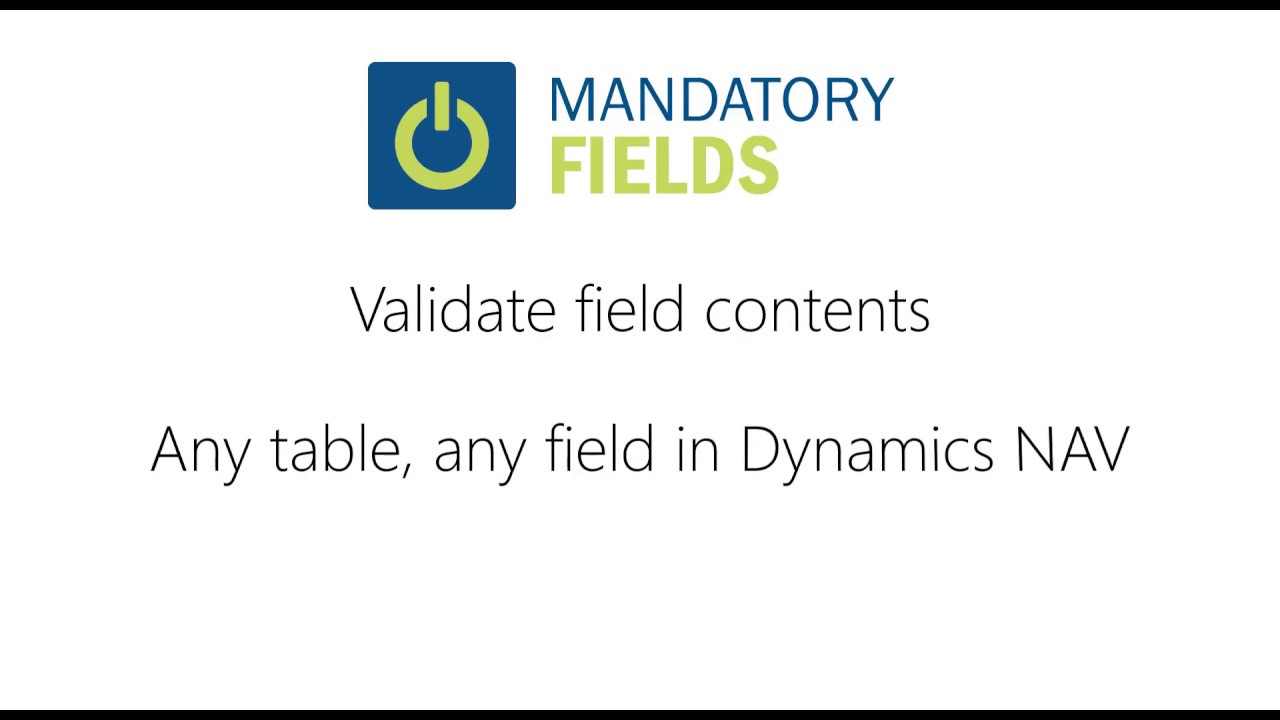 Demo video Mandatory Fields
Curious? On the left you will get a first impression of Mandatory Fields.

Do you have questions about field validation in Microsoft Dynamics NAV? Request a demo free of charge and without obligation. We will then demonstrate field validation to your specific questions and wishes.